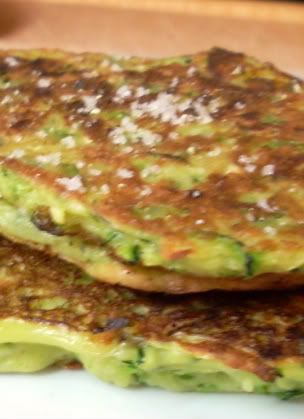 Since last sunday I have had zucchini fritters on my mind and I couldn't stop thinking about them. I even bought corn starch so I could make them (buying an ingredient for one recipe is positively decadent on a student budget - then again a lot of asian sauces use it too so I rationalised that it was acceptable). In my quest for fritters, I have attempted twice now to make the Chez Panisse zucchini fritters. The first time I adapted them by adding mint and feta and omitting the lemon zest and chives. They were good; very moist and fresh and fragrant, but a little too soft. The grated zucchini just gives off way too much moisture even after you salt and squeeze it.

So the second time I made it as the recipe says, but added some flour until the batter was a little firmer. It improved it a bit, but the softness remained. The fritters are actually very tasty. The issue is not so much with the recipe, but with the craving I had and the idea I got fixed on - I definitely want a chewier, almost tougher fritter. I don't think a fritter based on grated zucchini is going to do the trick.

The only other thing I can think to do is sauté chunks of zucchini first and put them with a doughier batter. But I don't want to stray into texas fair food unintentionally (straying there intentionally is a whole different story). I guess the file on this has to stay open for now.