We went to New York City! Did I mention that? We did! Like actual grown up adult people, some friends and I planned and executed a stay in Manhattan over Christmas and New Year. And, true to form, I meticulously researched every damn restaurant I might have been interested in on the entire island of manhattan. Let me tell you, we went to some super wonderful places. Let me tell you about the notable breakfasts first.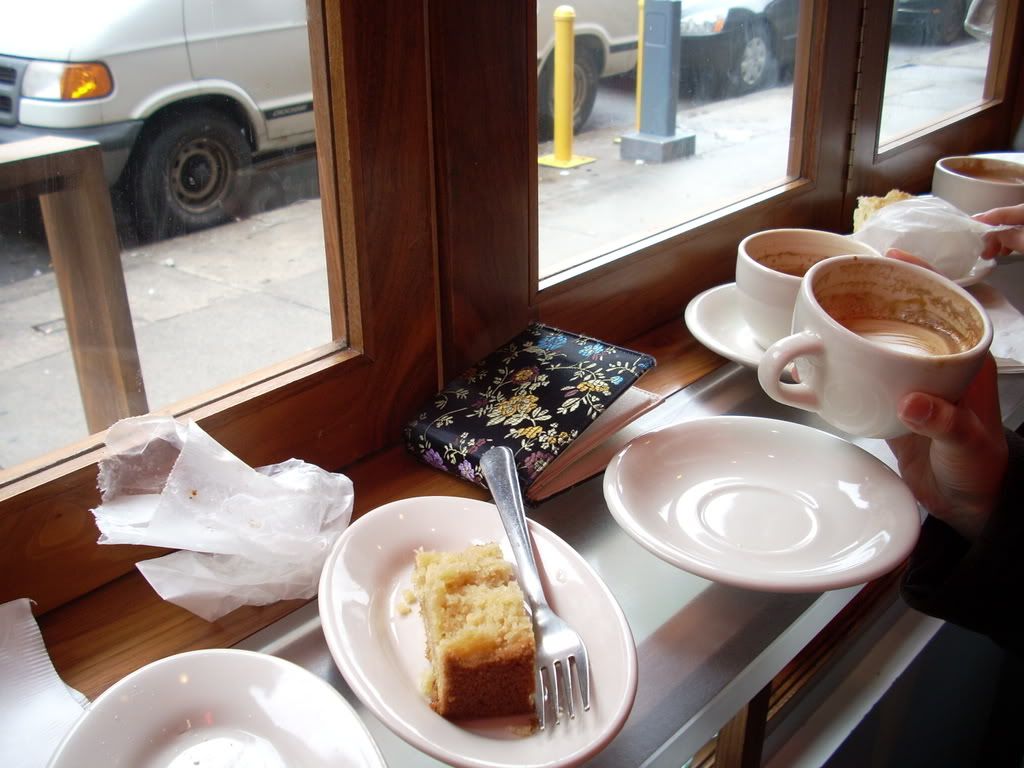 This photo gives you some idea of the damage of which we are capable. Abraco is a tiny little coffee bar on the lower east side and we descended mightily upon it, ordering mostly mochas and pain perdu (delicious cold french toast with honey and ricotta in the middle...god it was amazing). The coffee was so good that even I, she who refuses to try to "get into" coffee, enjoyed it very much. What you can see there is the remains of Aditi's olive oil cake. I helped her finish it. I am such a good friend.
We also went to Balthazar's, which was the most european place I found in NYC. For that reason it didn't hold quite as much appeal to me, but my eggs florentine with artichokes and spinach was really excellent. I was a little annoyed that it didn't come with bread, but a side of toast was very inexpensive (how very refreshingly non-european!). Other dishes did not come so bereft of carbohydrates and I think everyone enjoyed this breakfast.
As for bagels, we tried both Barney Greengrass and H&H. Barney Greengrass was much more about the authentic NYC diner atmosphere than the food, which was fine, but by contrast, the bagels at H&H are
super fabulous
. I had blueberry, and another day I had "everything" (sesame seeds , poppy seeds, onion...other stuff) and I tried pumpernickel too. I'm not 100% sure pumpernickel is supposed to be made into bagels but it's yummy anyway. Go for the everything if you aren't sure what to get. It's awesome.
We also trekked over to City Bakery one morning. I had a honey raisin scone because it had just come out of the oven. God damn, it was outstanding. We tried the hot chocolate here, which was highly reccomended by the NYT. Though the texture was nice, the flavour was pretty one-note and disappointed me after my dedicated weeks of european hot chocolate drinking.
One final note: we tried to go to the Clinton Street Baking Company for breakfast. We tried TWICE. But those people need a basic lesson in economics, and soon. If you're telling people who showed up
five minutes after you open
that there's an
hour wait
for a table, either your restaurant is too small or you are not charging enough.