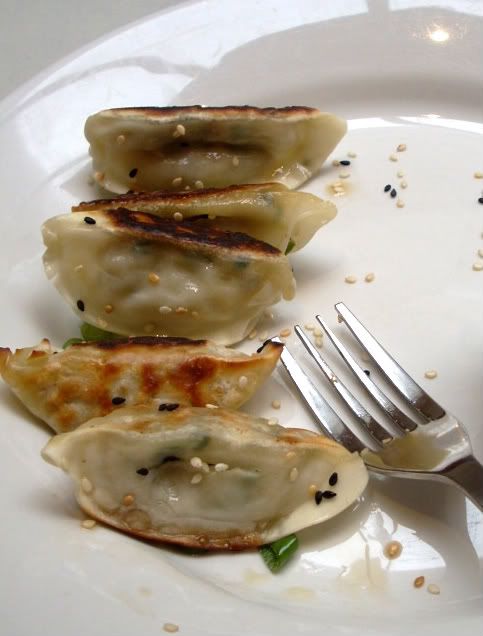 London
has great vegetarian food, which I discovered while staying with some family friends in England. I went to several restaurants I'd highly recommend. The first is Mildred's, which is a stripped-down and modern vegetarian restaurant. I'm not normally one for anything very trendy (just ask my friends in the Neville Longbottom Fanclub on Facebook) but when I went to their site I saw they served gyoza. I love gyoza with an almost indecent passion. But as it's usually made with pork, I give it a miss. The vegetarian gyoza at Mildred's was fabulous and well worth the slightly inflated prices that you expect of trendy restaurants.

Equally trendy was Ping Pong, a dim sum place whose catchphrase is "Little Steamed Parcels of Deliciousness". And indeed, they are. I went here with my grandmother on our last night in London, and we had all manner of little dishes - bamboo shoot salad, whole baby bok choi in garlic sauce, vegetable puffs, tofu dumplings, and sticky rice packets. For dessert we had sweet beetroot puffs and they were outstandingly fabulous. The decor here is so cool - we sat downstairs which is definitely where it's at. My grandma kept making hilarious comments about how other women were dressed. It was a lot of fun (but not for the other women in the room).

But my favourite place to eat in London is Food for Thought, a tiny, fairly ramshackled place so crowded that a friend and I opted to have our food to go. I got a container with a lot of different salads, and a bowl of sweet potato and eggplant laska. We ended up eating them sitting on the pavement in the middle of a roundabout (don't even start with me) and it was the best lunch ever. The laksa had huge chunks of tofu and eggplant in the smooth sweet potato broth, and the salads were equally delicious. This is definitely top of the list for when I get back to London.