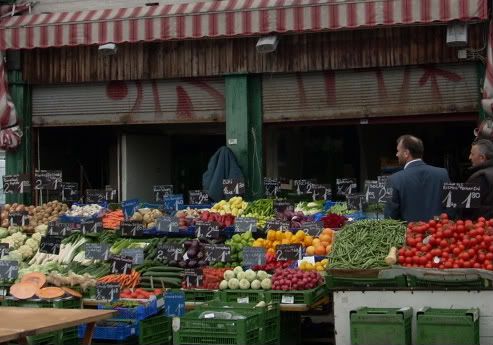 The Nachtmarkt never seems to close down. I went there on my first morning in Vienna for breakfast – an excellent nectarine and a cold but delicious apfelstrudel. When I walked back to my hostel that night it was still going. The next day the lunch place I was looking for turned out not to exist and a woman in a nearby café
directed me back to the Nachtmarkt for lunch.


There are numerous restaurants in the Nachtmarkt, with falafel stands, asian noodle bars and doner kebabs crammed right in next to the expensive wine shops, smelly cheese displays and fresh vegetables. I eventually decided on a restaurant called Indian Pavilion, because most of the other places violated one of my sacred rules : never eat anywhere with photographs of food on the menu displayed outside.
I don't do this because I'm a snob but because it's generally a good indicator of poor quality. (L'As du felafel in Paris is the exception.) I had a vegetable masala with rice and cucumber raita – nothing transportative, but very good.

There are loads of little bakeries in the Nachtmarkt and after lunch I wandered through and picked up a spelt wheat ball – I'm not sure what was holding it together but it had a texture like marzipan and seemed like the healthy, cinnamony cousin of the chocolate rum ball. It was outstanding.