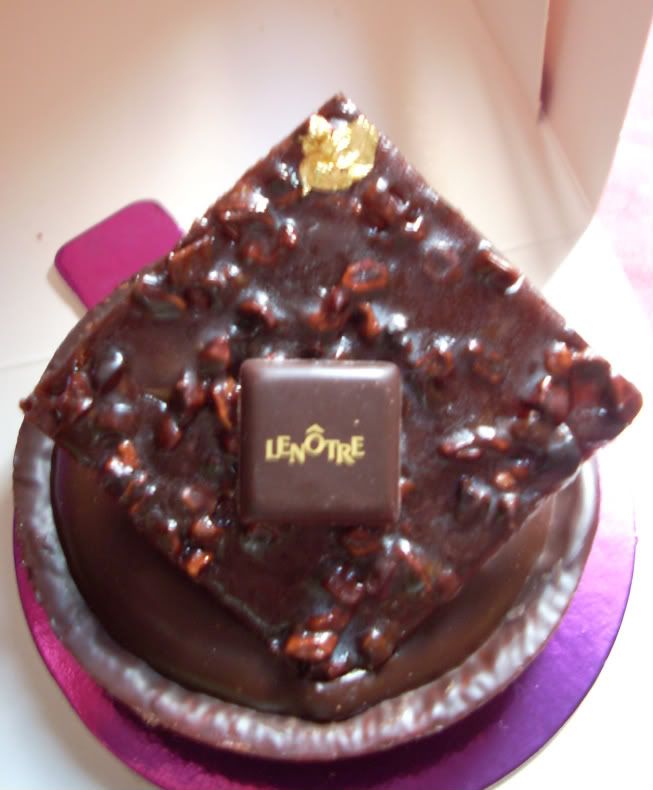 LeNotre is really my kind of place. Their dedication to chocolate is complete and unswerving. When I trotted up there last week (carrying the butternut of previous note on my back) they had so many different chocolate desserts that I tuned out about halfway through having them explained to me. I was in a sort of pre-emptive chocolate trance. If you've never had that experience I urge you to hang around in more chocolate shops.
This time I went with the nougatine, a chocolate tart that has a really extreme attitude problem. Eating this tart is a serious matter that should not be undertaken by the faint of heart. If you have ever had the thought "Wow, that was too much chocolate," then this is not for you. The tart doesnt have a crust - it only looks like it does. What that actually is is a hard caramel shell with a matte dark chocolate coating. The nougatine sheet is supported by a chocolate truffle, and the actual chocolate tart filling is so dark and intense that it must have been at least 70% cacao.
They also make the best pistachio macaron I have found yet in this city. God bless them for having a store so close to where I live.