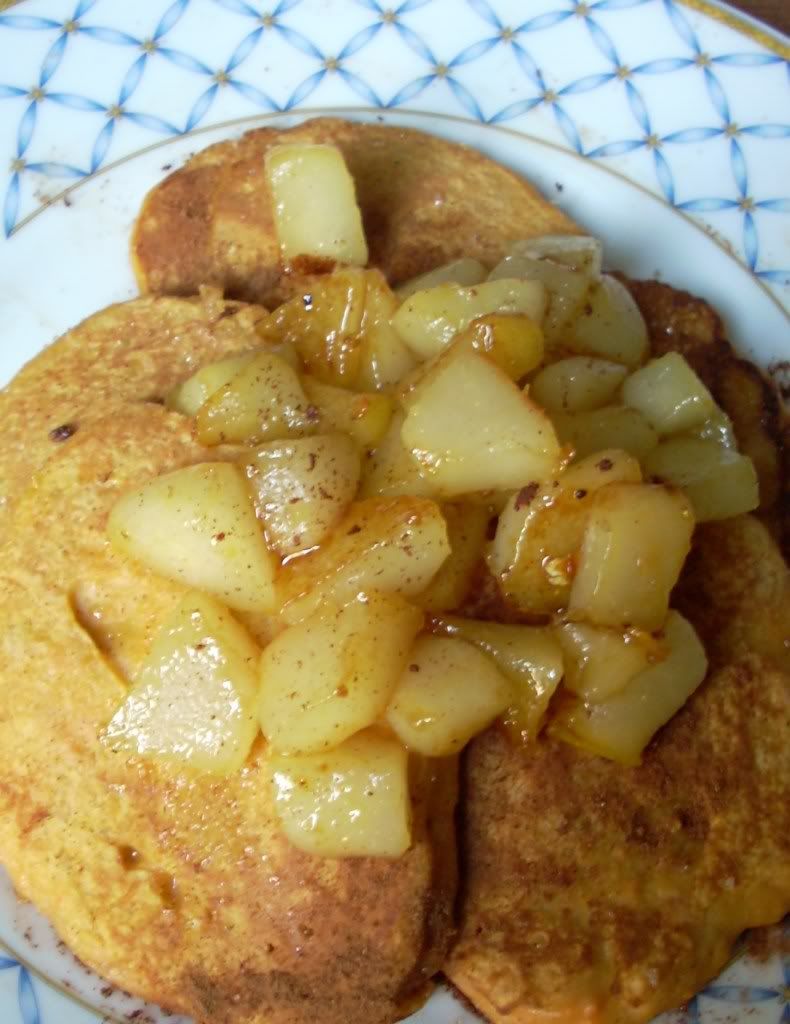 My mother has been making sweet potato pikelets since I was a kid. Dusted with brown sugar and cinnamon, they're one of my favourite desserts or breakfasts. Sweet potato works so well with the cinnamon and the molassesy, dark sweetness of brown sugar. Although you couldn't really call them healthy with the amount of sugar I put on them, they do better than most desserts, and they far outstrip the humble plain pancake or pikelet in terms of taste anyway. I haven't seen my mom in eight months, and a week or so ago I decided I really needed these pikelets, so I skyped her ASAP for her recipe.
It's actually very easy - the recipe is loose and I made some modifications based on what I had on hand. The way I did it, a one-person serving is just 1 cup of mashed sweet potato, an egg, 2-3 tablespoons of flour, a pinch of baking powder and a pinch of salt. (If you wanted to serve these as a dessert to people with a serious sweet tooth you could add some brown sugar to the batter too.) I combine the egg with the sweet potato before adding the dry ingredients, then heat up a pan and make the pikelets. I like them done on a really hot pan so you get brown bits on the outside but the inside is still moist and dense. Dust them liberally with cinnamon and brown sugar - it is forbidden to eat theses any other way.
I had these with sauteed spiced pears on top. Sauteeing pears couldn't be easier, you just melt a little butter in a saucepan, add some brown sugar and stir until it's melted too, then throw in your peeled and sliced pears. I added the spices about midway through the sauteeing because I was using Babette's Seven Secrets mix of cardamom, coriander, anise, vanilla, szechuan pepper, tumeric and pepper and I didn't want it to burn. I'm pretty sure cinnamon would be fabulous too. Ideally the pear should be hard, which makes sauteed pears a good way to perk up fruit in winter (or when Franprix only has hard, lumpy pears, which is often). The pear I used was a little too close to ripe, but it held up well under sauteeing, and it was totally delicious anyway.