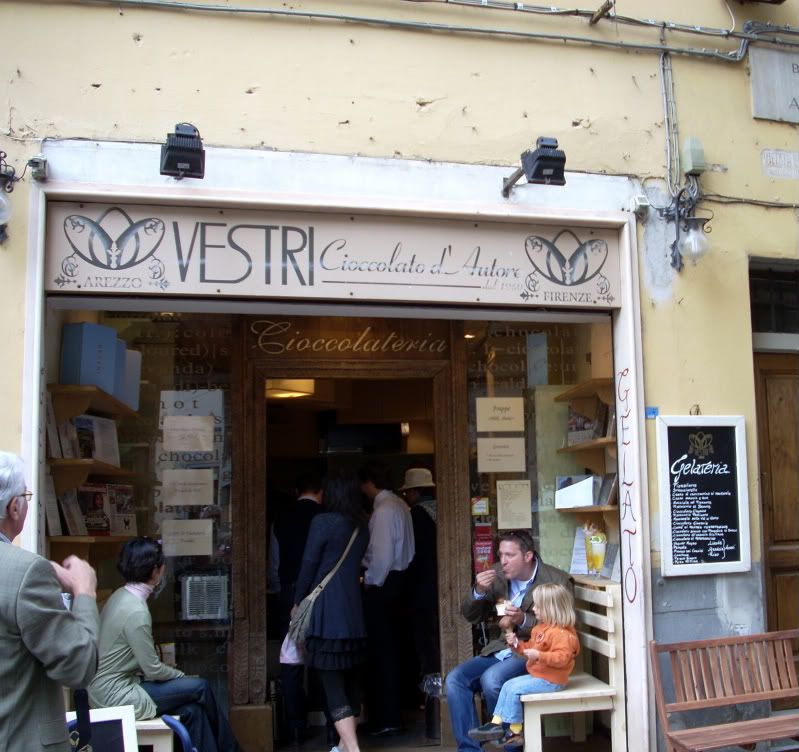 Don't go to Florence on a Monday. All the museums and galleries are closed, and the real tragedy is that Vivoli is closed. Vivoli was recommended to me by loads of stupid guidebooks and a close family friend. It's supposed to be the greatest thing mankind can do with a cone. But like everything else in Florence, it's closed on a Monday.

I was wandering the streets looking for an alternative source of gelati when I stumbled across Vestri. Vestri looked good – for one, it didn't have its gelatis on display. The counter displays a dozen silver lids and the gelati stays hidden, just like at San Crispino in Rome and Grom in Paris. Those silver canisters are a very, very good sign in a gelataria.

I had the "giant" cup of chilli chocolate, chocolate, pistachio and straciatella. The pistachio was outstanding – it's a mottled brown colour but don't be fooled, it's the best pistachio I've ever had (equal with Grom). Their chilli chocolate was the best I've ever had equal with none: the chocolate wasn't very dark, which worked surprisingly well. The girls next to me who could evidently read the Italian reviews stuck to the windows were discussing how Vestri is famous for the chilli chocolate.

They also make their own chocolates and assorted goodies in the back, but once you've had a "giant" cup of gelati, you're pretty much out for the count.